We've barely had time to unpack our rucksacks after the sunshine and sing-alongs of Latitude but we're preparing to pack again as we head up to bonny Scotland for the Edinburgh Festival Fringe.
From 6-30 August our plug-and-play theatre ROUNDABOUT will be popped-up at Summerhall where you can catch the world première of THE HUMAN EAR from Fringe First award-winning writer Alexandra Wood plus OUR TEACHER'S A TROLL by Dennis Kelly, LUNGS and EVERY BRILLIANT THING by Duncan Macmillan.
We're thrilled to be welcoming some of the UK's most exciting companies and artists to the ROUNDABOUT @ Summerhall programme this year including Theatre Uncut, Jonny & The Baptists, Papermash, Tricycle Theatre, Soho Theatre, Dancing Brick, Eastern Angles, Unity Theatre Liverpool and some chap called Daniel Kitson. Plus our daily EARLIER / LATER slots will showcase daring, new and one-off shows and events from the likes of The Royal Court, Josie Long, Luke Wright, The Roundhouse and many more.
Roundabout… it's THE place to be this Edfringe.
ROUNDABOUT @ Summerhall Programme 2015…
Paines Plough and Half Moon present
OUR TEACHER'S A TROLL
by Dennis Kelly
Time 11:00  Dates Aug 6-10, 12-17, 19-23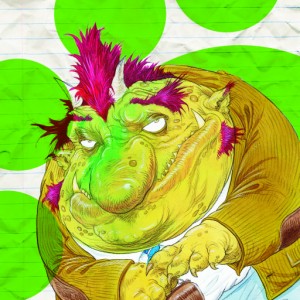 Two terrible twins with a talent for turmoil rule their school with terror and tyranny, until the arrival of a new head teacher with green scaly skin, sharp fangs and a long spiky tail… Can the twins save the school from the child-eating Troll? Can they get Brussels sprouts in peanut butter taken off the menu? And most importantly, can naughtiness prevail? Be outrageously entertained in this colourfully comic show from the writer of West End hit, Matilda the Musical. For ages 7+ and their accompanying trolls (or parents). "Comic perfection" ★★★★ (The Times).
——————————————————————————————————————
Paines Plough presents
LUNGS
by Duncan Macmillan
Time 15:35/22:30  Dates Aug 7, 9, 12, 14, 16, 19, 21, 23-30
'I could fly to New York and back every day for seven years and still not leave a carbon footprint as big as if I have a child. Ten thousand tonnes of CO2. That's the weight of the Eiffel Tower. I'd be giving birth to the Eiffel Tower.' In a time of global anxiety, erratic weather and political unrest, a couple want a child but are running out of time. What will be the first to destruct – the planet or their relationship?
"The most beautiful, shattering play of the year" ★★★★★ (Sunday Express).
——————————————————————————————————————
Paines Plough and Pentabus Theatre Company present
EVERY BRILLIANT THING
by Duncan Macmillan
Time 14:05  Dates Aug 8-10, 12-17, 19-24, 26-30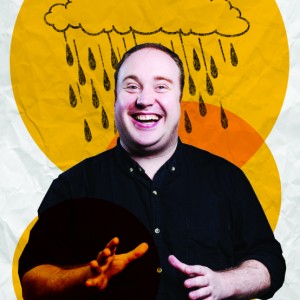 You're six years old. Mum's in hospital. Dad says she's 'done something stupid'. She finds it hard to be happy. So you start to make a list of everything that's brilliant about the world. Everything worth living for. 1. Ice cream. 2. Kung fu movies. 3. Burning things. 4. Laughing so hard you shoot milk out your nose. 5. Construction cranes. 6. Me. A play about depression and the lengths we go to for those we love.
"Heart-wrenching, hilarious … possibly one of the funniest plays you'll ever see" ★★★★ (Guardian).
——————————————————————————————————————
Paines Plough presents the World Premiere of
THE HUMAN EAR
by Alexandra Wood
Time 15:35  Dates Aug 6, 8, 10, 13, 15, 17, 20, 22, 24, 26, 28, 30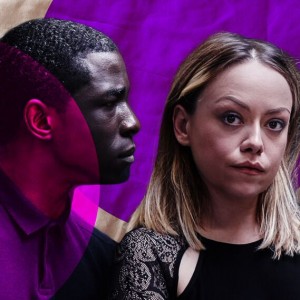 A man turns up at Lucy's door claiming to be the brother she hasn't seen in 10 years. But why has he come? Is it really him? And what happens when there's another knock at the door? Forced to confront the messy inner workings of sibling love with its petty resentments, casual cruelty, profound betrayals and implicit understanding, can the bond between brother and sister be rebuilt? An intriguing tale of loss, renewal and knowing who to trust from Fringe First Award winner Alexandra Wood.
——————————————————————————————————————
Eastern Angles in association with Unity Theatre Liverpool present
CHICKEN
by Molly Davies
Time 17:05  Dates Aug 7-10, 12-17, 19-24, 26-30
Eastern Angles and Unity Theatre, Liverpool present Chicken, a darkly comic new play by Molly Davies. Set in a dystopian future where people from the North and South are alienated from one another, London sits above the chaos as a sovereign state. Davies, whose previous credits include A Miracle and God Bless The Child (Royal Court), Shooting Truth (National Theatre Connections) and Orpheus & Eurydice (NYT/Old Vic Tunnels), has created a wonderfully twisted world where communities collide, families are fractured and the agricultural idyll is distorted beyond recognition.
——————————————————————————————————————
Papermash Theatre and Tricycle Theatre present
HAPPY BIRTHDAY WITHOUT YOU
by Sonia Jalaly
Time 21:10  Dates Aug 7-10, 12-17, 19-24, 26-30
A hilarious, award-winning one-woman comedy with lipstick, slapstick, and a whole lot of Shirley Bassey. Violet Fox is a live and visual spoken word vegan solo artist and occasional collaborator. Today is a celebration of every birthday. And you're invited. In 'Happy Birthday Without You' Violet tells the story of her complicated relationship with her mega diva mother. Bring beer and bunting and come on a journey through her childhood of pop tarts, Patti Smith and second hand smoke.
* Warning: people usually cry.
——————————————————————————————————————
Dancing Brick and Soho Theatre present
I'M NOT HERE RIGHT NOW
by Thomas Eccleshare
Time 18:25  Dates Aug 7-17, 19-24, 26-30
On top of a mountain in the middle of a blizzard, you see a figure: eight foot tall, with white matted hair covering his body. He stands upright on two legs. You see him. He sees you. But who will believe you and how far can you trust what you see?
Thomas Eccleshare's stunning new drama is the story of a scientist with an unbelievable story to tell, a woman who doesn't know what to believe.
In a vibrant collaboration between Dancing Brick and Soho Theatre, Steve Marmion directs this spellbinding play starring Valentina Ceschi.
——————————————————————————————————————
JONNY & THE BAPTISTS: THE END IS NIGH
Time 19:50  Dates Aug 7-17, 19-24, 26-30
Last year, Jonny accidentally told his four-year-old niece that climate change would end the world. To stop her crying, he and Paddy promised to fix it. They really did try very hard…
A brand new show from the multi-award-nominated stars of Radio 4's The Now Show and Infinite Monkey Cage.
"Politically engaged… raucously silly." (Guardian)
"Riotous rock'n'ROFLing." (Independent on Sunday)
"The political edge of 80s alternative comedy… a pop-soul voice to win X Factor." ★★★★ (Stewart Lee, Observer)
"A triumph… if you're looking for a fun time, the Baptists will deliver." (Chortle)
——————————————————————————————————————
POLYPHONY by Daniel Kitson
Time 12:15  Dates Aug 7-10, 12-17, 19-24, 26-30
I have written a Play – a real humdinger.
It has a pretty epic scope, a relatively staggering vision and somewhere in the region of twenty characters.
Each of which has been performed and recorded in isolation, producing a litany of individual voices – each of them perfect, captured as a single track that will, when played back in precise unison, form a glorious theatrical polyphony.
The play is perfect.
The recordings are perfect.
I just need enough people to hit play.
That's all.
——————————————————————————————————————
THEATRE UNCUT: IN OPPOSITION
Time 10:00  Dates Aug 24-30
HERALD ANGEL, PICK OF THE FRINGE AND FRINGE FIRST WINNERS
Multi award-winning Theatre Uncut has been at the forefront of political new writing for the past 4 years. Now we present the best of Theatre Uncut in one sitting, followed by our signature post-show debates. See six of our catalogue of political short plays by leading writers including Dennis Kelly, Neil LaBute, Clara Brennan, Stef Smith and more. Tackling current issues of austerity, education & democracy these acerbic, witty, punchy and always challenging plays bring our audience to the conversation like no other theatre company.
——————————————————————————————————————
Paines Plough and friends present
EARLIER/LATER
Times 10:00 & 22:30  Dates Aug 8-29 (check painesplough.com for daily listings)
A series of early morning and late night one-off shows: theatre, poetry, comedy, music, rumbles, shenanigans and much more in Roundabout throughout the Edinburgh Festival Fringe.
Get your fix of fresh new work, exhilarating debates and rip-roaring performances. Kick start your morning and round-up your evening in Roundabout – "the loveliest venue at the fringe" (The List, 2014).
——————————————————————————————————————
So what do you think of ROUNDABOUT @ Summerhall 2015? Who catches your eye? Let us know and follow us @painesplough – you never know what other surprises we might have up our sleeves #RoundaboutPP.
See you there.